15/November/2015
For a government that is unduly proud of its international standing, the BJP administration in the national capital seems curiously oblivious to the great damage being done to India by global perceptions of the climate of intolerance raging rampant across the country.
Pick up (or Google search) any major international newspaper of repute for stories about India in the last month or two—from the New York Times to the Frankfurter Allgemeine Zeitung—and all you find are articles about the Dadri lynching of Mohammed Akhlaq, the Kalburgi murder, writers returning their Sahitya Akademi awards and the irresponsible statements of BJP leaders about everything from Hindu reassertion to the "cleansing" of western cultural influences from India's ethos. The impression has gained ground that India is now governed by obscurantist and intolerant forces determined to put minorities, rationalists and liberals in their place (somewhere not far from the dustbin).
The latest spate of negative international attention has surrounded the beef-banning hysteria being spread across the country by hindutva forces, brought to a dramatic boil by a Delhi Police raid (conducted by no fewer than 20 policemen!) on the Kerala House canteen whose menu had innocently announced "beef fry" (a reference to buffalo meat sourced legally from New Delhi Municipal Council-approved outlets). The police were acting to appease a complaint from the fringe Hindu Sena, a group emboldened by its success in bullying and intimidating the likes of the hapless Kashmir MLA Engineer Rashid. All this, and the accompanying media tamasha, occurred as 50 African heads of state and government, every one of them a beef-eater, gathered in Delhi to celebrate relations with India. It was hard not to wonder what they were thinking about the prevailing national culture of their host country.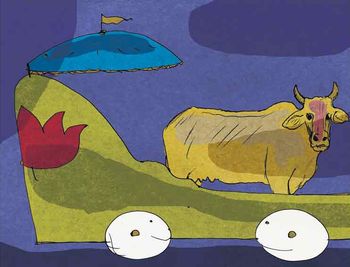 Illustration: Bhaskaran
A Bangladeshi friend visiting me at the same time deplored the problems this was causing back home for Indophiles like him. "The Islamist fundamentalists in Bangladesh are emboldened by these developments in India," he pointed out. "They are having a field day fomenting hostility to a country they say ill-treats Muslims and acts against Muslim interests and practices."
The Modi regime seems indifferent to these consequences of the anti-national behaviour of its zealots. Everyone else, though, is increasingly alarmed. President Pranab Mukherjee has spoken out twice on the waning of tolerance, as has the Vice President, Hamid Ansari. Editorialists and opinion-makers throughout the nation have been extremely alarmed. And, Indian diplomats are tearing out their hair about how much more difficult their jobs have become.
Some of the thuggery of the lumpen hindutva elements has caused concern even to Finance Minister Arun Jaitley, who recently appealed for 'debate, not vandalism'.(It slightly detracted from his message that he had just accused the "award wapasi" writers of being hypocritical and conducting a "manufactured" protest.) Jaitley spoke at some length in an almost Amartya Sen-like vein about the need for civilised discussion in our national discourse. "I feel it is extremely important that people indulging in this [behaviour] are strongly criticised.… Those who are using these methods must introspect whether they are adding to the quality of Indian democracy, or reducing the credibility of India as a country before the eyes of the world," Jaitley said.
That's the point. We cannot simultaneously sell ourselves to the world as a land of pluralism, tolerance, Gandhianism and Atithi Devo Bhava, while promoting intolerance, communal hatred and minority insecurity within the country. It is time the Modi government learned they cannot promote "Make in India" abroad while condoning the propagation of "Hate in India" at home.
Source:
http://www.theweek.in/columns/shashi-tharoor/a-beef-with-tolerance.html