15/May/2013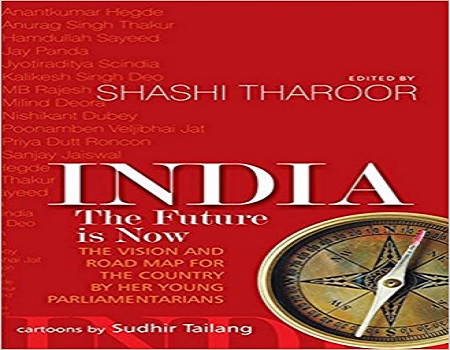 India: The Future Is Now, published in 2013, is a collection of thoughts of young Indian Members of Parliament. This book raises many questions about various problems and challenges that India faces today. The contributors come from opposing political parties, and urban and rural backgrounds. However, they show that despite walking on different paths, each one of them hopes to uplift every underprivileged Indian.
This book covers topics that include education, healthcare, technology, political reforms, and biofuels. Some contributors are Priya Dutt Roncon, Jyotiraditya Scindia, Milind Deora, and Poonamben Jat. The Union Minister of State for Power, M. B. Rajesh, Sanjay Jaiswal, and Jyotiraditya Scindia, highlight how India's demand for power is much higher than the supply. Anurag Singh Thakur discusses a unique point about how cyber warfare can threaten Indian sovereignty. BJP member, Jay Panda, focuses on the importance of increasing the budget for infrastructure. The book also discusses healthcare, rural development, bio fuels, and new technology.
India: The Future Is Now demonstrates how bold steps can help solve many problems that the nation faces. It also shows that these young leaders are responsible for India's future, and citizens should put their faith on them. The essays prove that these men and women are deeply analytical, and their voices need to be heard. India: The Future Is Now also has cartoons by Sudhir Tailang. This book is for those who want to learn about India's role in the global economy, and how India should lead the way towards peace and democracy.
- Shashi Tharoor
To buy the book, click on any of the links below:
Penguin India
Amazon
Flipkart