25/January/2015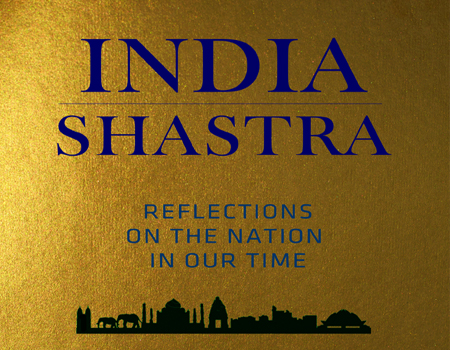 India Shastra is a collection of 100 articles and essays, some longish, some rather short, that seek to convey a portrait of contemporary India from the perspective of late 2014. Many of the pieces began life as columns in the media, but have been updated and expanded for this volume; some are adapted from speeches. Few have been left as they were originally written and delivered, since they are meant to be read at the dawn of 2015. The judgements in the book should stand as contemporary reflections of the India in which they are now being published.
With India Shastra I have concluded a de facto trilogy of works attempting to explore what makes my country what it is. India: From Midnight to the Millennium(1997), slightly revised and republished at the turn of the century as India: From Midnight to the Millennium and Beyond (2000), took in the broad sweep of India's politics, economics, society and culture in its first fifty years of Independence. The Elephant, the Tiger and the Cellphone (2007) was a collection of various writings on the same themes, bringing the narrative of India's transformation up to the sixtieth anniversary of India's Independence. India Shastra (2015) updates the story with more recent writings, and takes into account the dramatic change in Indian politics today with the ascent to power of Prime Minister Narendra Modi and his Bharatiya Janata Party. In a sense, the three books have evolved as my personal works of Smriti (memory), Shruti (hearing), and Shastra (thinking).
Section I, 'India Modi-fied', looks critically at a number of initiatives and actions of the new government in its first six months of existence. Section II, 'Modi's India and the World', discusses the foreign policy actions of the current government. Section III, 'The Legacy', groups together a number of essays relating to the political inheritance received by the new government from its forerunners. Section IV, 'Ideas of India', goes beyond reaffirming my long-held (and often expressed) faith in India's democratic pluralism to discuss a number of ideas relating to different aspects of Indian political life and the national ethos. Section V, 'The Pursuit of Excellence', covers a variety of areas in which India is striving, with varying degrees of success, to achieve quality outcomes. Section VI 'Issues of Contention', picks up a number of issues on which political opinion in contemporary India is sharply divided. Section VII, 'A Society in Flux', casts an eye on recent developments that point to changes in aspects of Indian life and society. And finally, Section VIII, 'India Beyond India', takes up a number of globally-relevant issues of interest and concern to India, but are not principally about India alone, except as part of the worldwide themes in which India is also implicated.
Taken together, the eight sections in this volume do not pretend to amount to a comprehensive portrait of India. Rather, they reflect my preoccupations relating to India over the past seven years, which happen to coincide with my return to my homeland after more than three decades abroad, first as a student and then as a career official of the United Nations.
- Shashi Tharoor
To buy the book, click on any of the links below:
Penguin India
Amazon
Flipkart