01/January/2002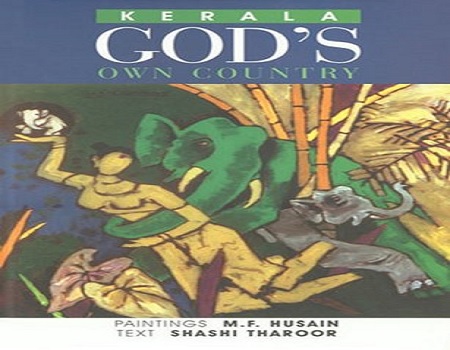 Kerala is a land of unsurpassable natural beauty. In its alabaster beaches, sylvan backwaters, misty hill stations, leafy ayurvedic resorts and bountiful Wildlife parks lies an immense reservoir of beauty-a beauty heard of only in fables and exotic tales. God's Own Country is an Endeavour to capture the essence of this land extraordinaire by a great artist whose paintings in the Book bear his signature in Malayalam, a language he cannot speak, and a writer who traces his Roots to Kerala, a homeland he has only visited on his holidays! In a curious collaboration, these two avant-garde visionaries-one who is a veritable "outsider" and the other whose only "insider" claim is his ancestry-come together to salute their common love : Kerala.

M.F. Husain's paintings are an exquisite evocation of Kerala-its beaches, lagoons, forests, and above all, the startling, many-hued green of the countryside, with its emerald paddy fields and Banana groves, and coconut and areca trees. Replacing his trademark horses with elephants, Husain embodies the magic of Kerala through the dazzling fluency of his brush. Similarly, Shashi Tharoor's essay is a nostalgic rendition by a writer who, despite having been city born and bred, seeks inordinate pride in the Malayali cultural heritage, the subtleties of which he wants to showcase to the non-Malayali. In a voyage that is as much self-discovery as storytelling, Tharoor presents a masterly vignette of Kerala's unique ethos and values.

For the information-minded, the book has a section, "Essential Kerala", packed with nuggets for the cognoscenti traveller, from premium accommodation to high-end backwater packages to choice ayurvedic resorts.

All said, God's Own Country is an act of celebration by one of India's greatest artists and an affirmation by an exemplary Keralite writer who has understood once again why he is proud to be a Malayali.
- Shashi Tharoor
To buy the book, click on any of the links below:
Penguin India
Amazon
Flipkart